At North Hills Office Services, the safety and well-being of our employees and clients are our top priority.  We recognize the important role we play in providing our clients with janitorial and facility maintenance solutions during this critical time. We are actively monitoring the COVID-19/Coronavirus situation and will continue to follow CDC guidelines.
When it comes to disinfecting we use multiple products that are EPA registered & CDC approved to kill Covid-19 Novel Coronavirus and many others.  These products include:
Clorox Healthcare Bleach Germicidal Wipes EPA Reg No. 67619-12
PDI Sani-Cloth AF3 Germicidal Disposable Wipe EPA Reg No. 9480-9
PDI Sani-Cloth Bleach Germicidal Disposable Wipe EPA Reg No. 9480-8
3M #23 Neutral Quat Disinfectant Cleaner EPA Reg No. 47371-129-10350
We offer a multitude of disinfecting services to fit our client's specific needs.  Electrostatic Spraying, Ultra Low Volume Fogging, High-Touch Disinfecting, Full Surface Decontamination, and our latest addition the Antimicrobial Protective Coating System.
Electrostatic spraying will cover all surfaces, including those out-of-reach spots, with a positively charged, wraparound mist.  The positively charged disinfectant will cling to surfaces and leave a streak-free disinfected surface.
High Touch Disinfecting comprises disinfecting all specific high-touch points (e.g. Entry door handles and pushes, elevator buttons, common area vending machines, ledges, door handles and knobs, light switches, etc.) in the common areas & tenant spaces (e.g. desks, keyboards, phones, conference rooms, armrests of chairs, pantry surfaces, copy machine and printer controls.) as a proactive measure.
Full Surface Decontamination is a high-level intensive disinfecting should you have an infectious person in your facility.  This process is executed by a special team of professionals who have been trained in handling infectious disease cleaning & full surface decontamination in commercial office buildings and other facility settings. This service is outsourced to our restoration partner who has ample stock of PPE (protective suits, eye protection, respirators, gloves, and CDC approved / EPA registered cleaning solutions to kill Covid-19 Human Coronavirus).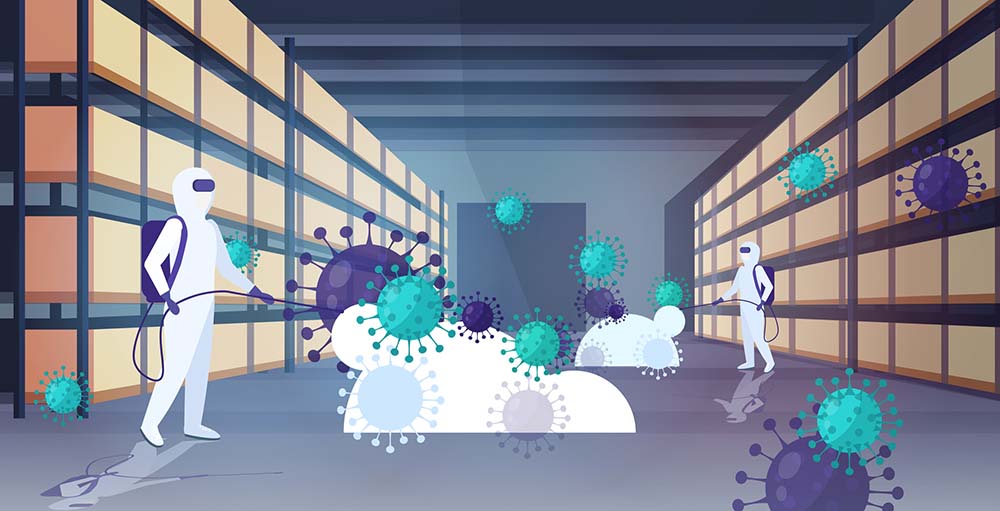 Antimicrobial Protective Coating System consists of two distinct, yet equally remarkable, patented and EPA registered products.
Step 1 is our high-performance, multi-surface cleaner; no-rinse, no-wipe sanitizer, and broad-spectrum hospital-grade disinfectant; and odor, allergen, mold, mildew, and fungi eliminator.
Step 2 is our semi-permanent antimicrobial surface protectant that continuously inhibits the growth and spread of bacteria and other microorganisms. A complete Antimicrobial System installation is achieved by fogging CLEAN and SHIELD, one product right after the other, throughout a designated area. Upon application, the Antimicrobial system:
Kills 99.999% of bacteria and viruses | Destroys mold & mildew and helps prevent regrowth | Makes treated surfaces antimicrobial for up to 90 days | Meets the EPA's criteria for use against SARS-CoV-2, the novel coronavirus that causes the disease COVID-19. | Applied to all surfaces in restrooms, stairwells, lobbies, elevators, entry doors, offices, conference rooms, pantries, and kitchens.
Uniquely multifunctional, this antimicrobial system also helps preserve and protect the look, feel and smell of treated furniture, fabrics, and various other materials, from curtains to carpets and everything in between. It also:
Repels and helps resist stains from liquids, dirt, and other spills
Shields and can help extend the life of furniture, carpets, and other surfaces
Helps prevents future odors, fading, and surface degradation
Even more, than its versatility, what's most remarkable about this antimicrobial system is it can last and remain antimicrobial effective for 90 Days and does so without the use of any harsh chemicals.  After it has been applied you can elect to have a Seal placed on your entrance doors so employees & clients know the service has been performed.
Service areas include New York, New Jersey, Pennsylvania, Connecticut, Maryland & Florida.
Call North Hills today to find out how we can keep your employees and clients safe during this pandemic and beyond at (516) 364-2800 or email info@nhfs.com.